Commission Corner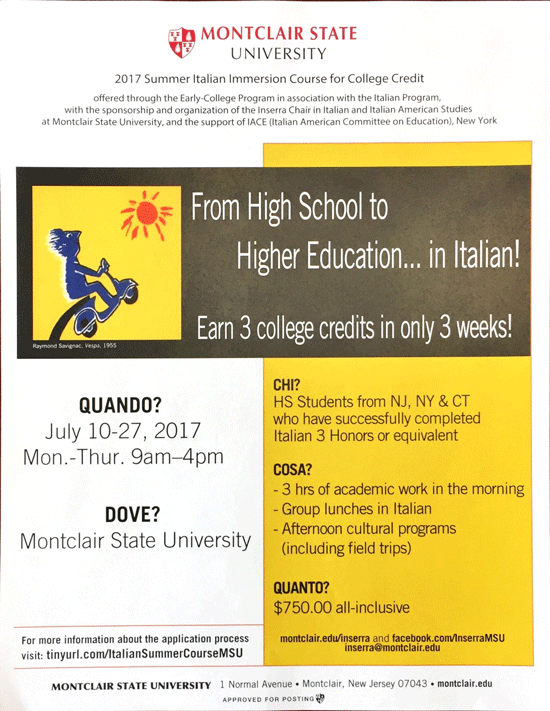 Summer Italian Immersion Course Offers High School Students College Credit
Montclair State University is excited to be offering a brand-new program, which seamlessly links the high school and college learning experience. Taught by a native speaker and coordinated by an experienced high school teacher on the Montclair State University campus, its aim is to consolidate rising senior students' intermediate Italian skills on their way to an advanced level. Students will benefit from an engaging college experience on a campus boasting a dynamic Italian program and proximity to New York City and richly Italian local NJ venues.
NJIHC Chairman Speaks at Westfield UNICO's 40th Year Celebration
"All organizations, governmental or private, should take a lesson from UNICO. If they followed your motto, 'Service Above Self', think how wonderfully successful we would all be" – Robert DiBiase
Commission Commends Kings Food Markets for Innovative "Piazza Italia"
NJIHC was delighted to join Kings Food Markets at the opening ceremony of "Piazza Italia," which includes 8 days of Italian entertainment and tastings throughout New Jersey. Consult the below schedule to find an event near you!
April 2017 Events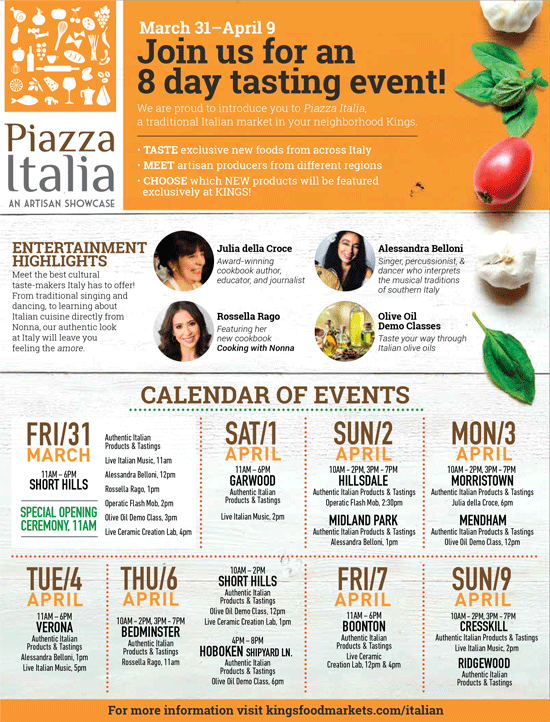 March 31 – April 9 2017
King's Food Markets (Multiple Locations throughout New Jersey)
Join Kings for Piazza Italia – a culinary journey through the best products Italy has to offer.
April 2, 2017 @ 5:00 pm
Dorothea's House (Princeton)
Join us as storyteller Maria LoBiondo, a member of the Princeton Storytelling Circle, will share Italian tales from both the oral folktale and literary fairy tale traditions on the theme of love.
Recurring Event beginning April 7, 2017 @ 8:00 pm
Kendall Main State Theatre at the College of New Jersey (Ewing)
Boheme Opera NJ will mount a fully-staged production of Gaetano Donizetti's ill-fated romance about the emotionally fragile Lucy Ashton, who is forced by her power-hungry brother to marry a man she does not love.
April 12, 2017 @ 6:30 pm
Ramapo College: ASB-136 (Mahwah)
Overwhelmed by his wife, a Northern Italy postal worker feigns a disability to request a transfer to Milan and when he's unmasked is sent for two years to a far and tiny village near Naples; he moves there alone, scared and full of the typical prejudices about the south, but there he meets lovely people who make him feel at home.
April 15, 2017 @ 2:00 pm
Trenton Free Public Library (Trenton)
Listen to speakers Cav. Dr. Gilda Rorro Baldassari, Jeffery Laurenti, and Mary Nicola Ferri lead a discussion on Italians in Trenton, NJ surrounding the book Vibrant Life, 1886-1942: Trenton's Italian Americans.
April 20, 2017 @ 6:30 pm
Ramapo College: ASB-136 (Mahwah)
Learn the exciting story of Mussolini's secret lover, Ida Dalser, and their son Albino.
April 22, 2017 @ 6:30 pm
Hanover Manor (East Hanover)
Join the Federation of Italian American Societies of NJ for a night a great food and music as they award this year's honorees.
April 23, 2017 @ 3:00 pm
Bergen Performing Arts Center (Englewood)
Watch and enjoy the classic opera about a love triangle in Ancient Egypt.
April 26, 2017 @ 6:30 pm
Ramapo College: ASB-136 (Mahwah)
Checco is born on the privileged side of life in an Italian small town, with a guaranteed job as a public servant. When a new reformist government vows to cut down on bureaucracy, Checco is forced to accept worsening conditions.
April 26, 2017 @ 6:30 pm
Morris Museum (Morristown)
In celebration of special exhibition, Lino Tagliapietra: Master of a Glass Renaissance, we're thrilled to welcome you to enjoy Italian-themed finger foods and signature cocktails, a curator-led tour of the exhibition, exclusive shopping experiences from unique vendors, and much more!
April 27, 2017 @ 6:30 pm
Montclair State University (Montclair)
Directed by filmmaker Andrea Segre is the second of a two-days event linked to the project Italy and the Euro-Mediterranean Migrant Crisis.
April 29, 2017 @ 7:00 pm
Hunterdon Hills Playhouse (Hampton)
Join The Italian American Heritage Club of Hunterdon County to celebrate Italian heritage with a wonderful night of music and comedy.
April 30, 2017 @ 5:00 pm
Dorothea's House (Princeton)
Conductor Joseph Colaneri, musical director for The Glimmerglass Festival, Cooperstown, N.Y., will explore the historical roots and musical expression of the operatic style known as the "bel canto." The program will feature a discussion of works by Rossini, Donizetti and Bellini.