Commission Corner
NJ Italian Living History Project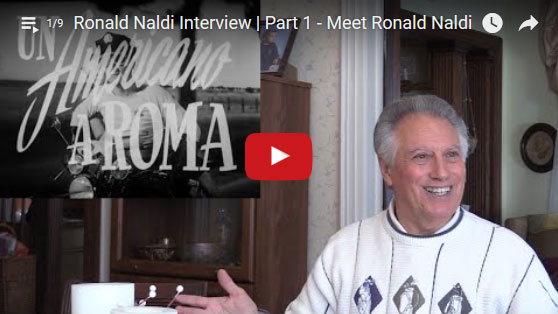 NJIHC Interviews Metropolitan Opera Singer – Check out the Commission's exciting new interview with opera singer Ronald Naldi from his home in North Plainfield, NJ. The Interview is the newest addition to the Commission's NJ Italian Living History Project – a repository of digital resources that speak to the experiences of New Jersey Italians and Italian Americans. Part 1 introduces us to Ronald's fascinating life and beautiful voice as he sings the italian classic: "'O paese d' 'o sole."
Watch Part 1 at NJItalianHeritage.org/History
Italian Commission Funding Vetoed for 2016 – The Governor vetoed Line item 1135, which would have appropriated $100,000 to fund NJIHC's programs. The Commission is grateful to Assemblymen Ralph Caputo and Gary Schaer for sponsoring the bill and for the efforts of the Italian American One Voice Coalition (IAOVC). Please continue to support the Commission and its mission by attending and sponsoring NJIHC Events.
Donate Now
Contact NJIHC for Corporate Sponsorship Opportunities
Purchase Tickets Today for NJIHC Congress!

November 12, 2016 @ 2:30 pm
Zimmerli Art Museum (New Brunswick)
The New Jersey Italian Heritage Commission (NJIHC) is proud to invite you to its 13th Annual Congress. This year's Congress will feature presentations from prominent local artists and will be immediately followed by a reception featuring heavy hors d'oeuvres and musical entertainment. Guests will have the opportunity to explore the museum's galleries and enjoy good food and camaraderie with leaders of the Italian American community and local representatives. $15 registration includes Program and Reception. Advanced Registration Required and Available Until Sold Out!
Past Congresses have featured presentations from scientists, business leaders, and even Supreme Court Justices that have strong connections to both New Jersey and Italy. This year's edition will feature presentations from Emmy-nominated filmmakers Marylou & Jerome Bongiorno, book artist Maria G. Pisano, and celebrity illustrator James Fiorentino. View all program details online and register at NJItalianHeritage.org/Congress
August 2016 Events
Recurring Event Beginning August 10, 2016 @ 5:00 pm
Joe Palaia Park (Eatontown)
Enjoy a five day festival featuring rides for all ages, fireworks, games, raffles, food eating contests, nightly entertainment and more while celebrating Italian heritage.
August 10, 2016 @ 5:00 pm
Holy Rosary Church (Jersey City)
A joyful feast of fun, faith and delicious food awaits at Holy Rosary Church's Old World street festival.
August 14, 2016 @ 12:00 pm
Windward Beach (Brick)
The Ocean County Columbus Day Parade Committee will attempt to make history by breaking the current Guinness Book world record of 316 people performing the Tarantella for five minutes.
August 14, 2016 @ 3:00 pm
Diamond Spring Beach Club (Nutley)
The Federation will be hosting its Annual Picnic on Sunday August 14th at the Diamond Spring Beach Club, RSVP by August 7th.
August 15, 2016 @ 12:00 pm
Boardwalk Hall (Atlantic City)
The yearly tradition will begin with a mass at Boardwalk Hall, followed by a procession to the water's edge where Camden Diocese Bishop Dennis Sullivan will have lifeguards take him into the ocean by lifeboat where he will toss the traditional wreath into the water.
August 26, 2016 @ 6:00 pm
Yogi Berra Stadium (Little Falls)
Come join the New Jersey Jackals as they take on the defending Can-Am League Champs, the Trois Rivieres Aigles, we'll be celebrating Jersey/Italian Night with themed promotions, music & more! Italian Heritage groups of 20+ people are encouraged to come out to Yogi Berra Stadium and enjoy discounted tickets & other group perks!