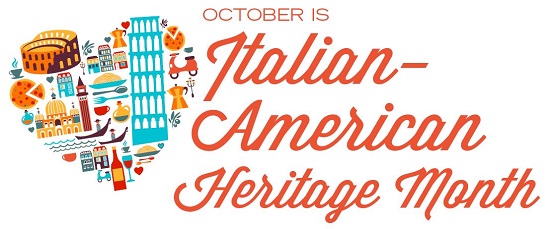 Commission Corner
We've Moved! – NJIHC's offices have moved to Rutgers University's College Avenue Campus in New Brunswick. We're very excited to be in the heart of campus, directly next to Barnes & Nobles and the New Brunswick train station. Please update your address books to the following:
New Jersey Italian Heritage Commission
106 Somerset Street, 3rd Floor
New Brunswick, NJ 08901
Celebrate Italian Heritage Month by Finding an Event – The NJ Italian Events Calendar is absolutely packed this month with a variety of exciting activities including concerts, lectures, and even an Italian glass auction. Readers in Philadelphia and South Jersey should check out Ciao Philadelphia's Event Calendar, compiled by the Consulate General of Italy in Philadelphia. Readers in New York and North Jersey are encouraged to peruse the Italian Heritage and Culture Committee's Calendar and Newsletter.
– View Ciao Philadelphia Calendar
– View IHCC-NY Calendar and Newsletter
NJIHC Commissioners to be Honored – NJIHC is proud to share that two of our Commissioners will be honored this month for their continual commitment to the Italian American community. On October 15th, NJIHC Commissioner Eileen Poiani will be inducted into the Italian American National Hall of Fame (IANHF) at the Tropicana Casino and Resort in Atlantic City, NJ, while on October 27th, NJIHC Commissioner and Curriculum Development Chair Gilda Rorro Baldassari will receive a lifetime achievement award from the Hamilton Township Economic Development Advisory Commission (HTEDAC), which will take place on October 27, at The Stone Terrace in Hamilton, NJ.
– Register for Hall of Fame
– Register for Hamilton Township Event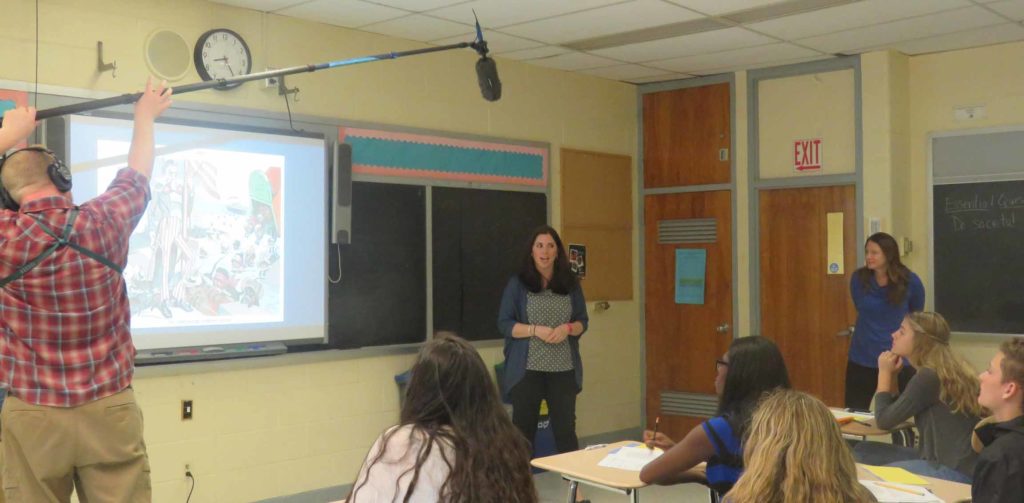 Register for NJIHC's Congress
Don't wait to the last minute to register! Seating is limited and we wouldn't want to have to turn you away. Please spend two minutes registering online today.
November 12, 2016 @ 2:30 pm
Zimmerli Art Museum (New Brunswick)
The New Jersey Italian Heritage Commission (NJIHC) is proud to invite you to its 13th Annual Congress. This year's Congress will feature presentations from prominent local artists and will be immediately followed by a reception featuring heavy hors d'oeuvres and musical entertainment. Guests will have the opportunity to explore the museum's galleries and enjoy good food and camaraderie with leaders of the Italian American community and local representatives. $15 registration includes Program and Reception. Advanced Registration Required and Available Until Sold Out!
Past Congresses have featured presentations from scientists, business leaders, and even Supreme Court Justices that have strong connections to both New Jersey and Italy. This year's edition will feature presentations from Emmy-nominated filmmakers Marylou & Jerome Bongiorno, book artist Maria G. Pisano, and celebrity illustrator James Fiorentino. View all program details online and register at NJItalianHeritage.org/Congress
View High Resolution Flyer and Press Release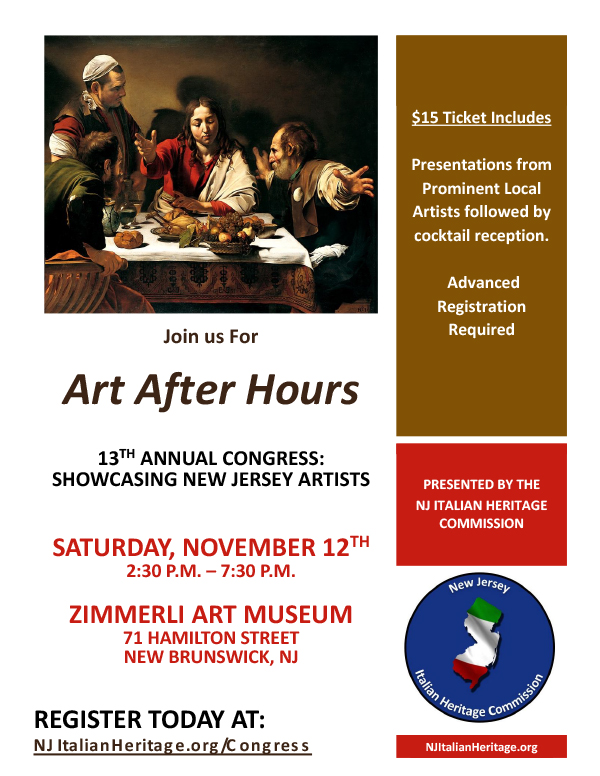 September 2016 Events
October 4, 2016 @ 6:00 pm
New Jersey City University (Jersey City)
Join us for readings by NJCU students, alumni, and faculty, as well as guest writers. Hosted by Edi Giunta and Rosa Garcia.
October 6, 2016 @ 6:00 pm
Our Lady of Angels Parish-Saint Joachim Church (Trenton)
Join members of La Takkarata, a folk troupe from Benevento, Italy, for singing, dancing, and a celebration of Columbus Day at Our Lady of Angels Parish-Saint Joachim Church. Mass to follow.
Recurring Event Beginning October 7, 2016 @ 4:00 pm
Grant Avenue, Seaside Heights (Seaside Heights)
Come to the Annual Columbus Day parade for a weekend filled with delectable Italian specialties, arts and crafts, outstanding entertainment and a parade that is bound to delight young and old alike.
October 7, 2016 @ 7:00 pm
Hanover Manor (East Hanover)
This year's awards dinner will feature music provided by Tony Fusco with Frank and Friends under the musical direction of John Oddo as they perform a tribute to the late great chairman of the board, Frank Sinatra.
October 7, 2016 @ 8:00 pm
Loew's Jersey Theatre (Jersey City)
Catch A Rising Star Comedy and Concerts presents MAKE AMERICA ITALIAN AGAIN TOUR Comedy Benefit Show for the Boys' and Girls' Towns of Italy on Friday, October 7th at the Landmark Loew's Jersey Theatre in Jersey City.
October 8, 2016 @ 10:00 am
Sons of Italy NJ Foundation Columbus Ceremony (Cherry Hill)
The Foundation will honor two outstanding Italian Americans at the Christopher Columbus statue located in Cooper River Park, Pennsauken, NJ.
October 9, 2016 @ 12:00 pm
East Hanover Fire Headquarters (East Hanover)
Join us for the Morris County Columbus Day Parade, which will lead to a food truck festival at Lurker Park on Rigedale Ave in East Hanover.
October 9, 2016 @ 3:00 pm
Christ Episcopal Church (Somers Point, NJ )
The Doug Murdock Meistersingers will celebrate Columbus Day with a concert featuring Italian classics music including "Torna Surriento," "Santa Lucia," "Volare," and many more.
October 9, 2016 @ 5:00 pm
Dorothea's House (Princeton)
Enjoy the music of Beppe Gambetta, an acoustic guitarist and singer who will perform traditional popular Italian songs, influenced by a variety of ethnicities around the world.
October 13, 2016 @ 6:30 pm
Montclair State University (Montclair)
Join us for the celebration of the Made in Italy as the third most popular brand in the world after Coca Cola and Visa!
October 15, 2016 @ 10:00 am
Rago Arts and Auction Center (Lambertville)
Take part in an Italian Glass auction, where beautiful works will be sold to the highest bidder!
October 15, 2016 @ 2:00 pm
American Labor Museum – Botto House National Landmark (Haledon)
Join us for a screening of "Finding the Mother Lode" (2013) by filmmakers Gianfranco Norelli and Suma Kurien, which explores the story of Italians who first came to California in large numbers with the Gold Rush and, though they found little gold, they did find a "mother lode" in farming, fishing, commerce and wine-making.
October 15, 2016 @ 6:00 pm
Tropicana Casino and Resort in Atlantic City (Atlantic City)
The Italian American National Hall of Fame will celebrate its 41st Annual Induction and Awards Ceremony at the Tropicana Casino and Resort in Atlantic City, NJ.
October 20, 2016 @ 8:00 pm
Count Basie Theatre (Red Bank)
Italian singer Giada Valenti will take her audience on a romantic and magical journey as she performs her own interpretations of American and Italian hits from the 60s, 70s, and 80s, as well as recent songs.