October 5, 2016

Register Today!

Online registration and additional details available at
NJItalianHeritage.org/Congress
November 12, 2016 @ 2:30 pm – 7:30 pm
Zimmerli Art Museum (71 Hamilton St., New Brunswick, NJ)
Please spend 2 minutes registering online today to ensure your spot at our signature event.
The New Jersey Italian Heritage Commission's Annual Congress is still one month away, yet we anticipate closing registration shortly, as the Zimmerli Art Museum can only accommodate 200 guests. If you've already registered, we encourage you to share this message with friends, or members of your organization, that would be interested in attending.
– Click Here to Register
Program and Reception Included for only $15
The 13th edition will begin promptly at 3pm with presentations from prominent local Italian American visual artists including Emmy-nominated filmmakers Marylou & Jermoe Bongiorno, book artist Maria G. Pisano, and celebrity illustrator James Fiorentino. The program concludes at 5.30 P.M. and will be immediately followed by a cocktail reception featuring musical entertainment and heavy hors d'oeuvres from D'Angelo Italian Market. Guests will have the opportunity to explore the museum's galleries and enjoy good food and camaraderie with leaders of the Italian American community and local representatives.
Ample parking options and 1 block from New Brunswick Train Station
Guests will be able to park for free at several locations within a 5 minute walk to the Museum. The venue is also right down the street from the New Brunswick Train Station, which is only 50 minutes from NY Penn Station via NJ Transit. Directions and a parking map including all options can be viewed at the bottom of our event page:
NJItalianHeritage.org/Congress
View High Resolution Flyer and Press Release
Current Program
Opening Remarks
Robert J. DiBiase – NJIHC Chairman
Hon. Andrea Canepari – Consul General of Italy, in Philadelphia
NJIHC Student Art Contest Award Presentation – Contest Details
Gilda Rorro Baldassari – NJIHC Curriculum Development Chair
Presenters
Marylou & Jerome Bongiorno:
Persistence of Vision: Filming our Italian American Experience
Marylou & Jerome Bongiorno are Emmy-nominated, award-winning filmmakers who create cutting-edge fiction, documentary, museum installation, and art films that are widely distributed. Their films document their Italian-American experience and screen internationally, including several venues in Italy, including: the international conference Remapping Italian America. Places, Cultures, Identities at Università degli Studi Roma Tre, Cinema & Politica in Rome, the Venice Film Festival, EcoVision in Palermo, festivals in Florence and Rimini, and a retrospective of their work at the Pesaro Film Festival. They formed their production company, Bongiorno Productions, in their home city of Newark, NJ, and work extensively – screening their films and lecturing – for Italian American cultural organizations. Learn more at BongiornoProductions.com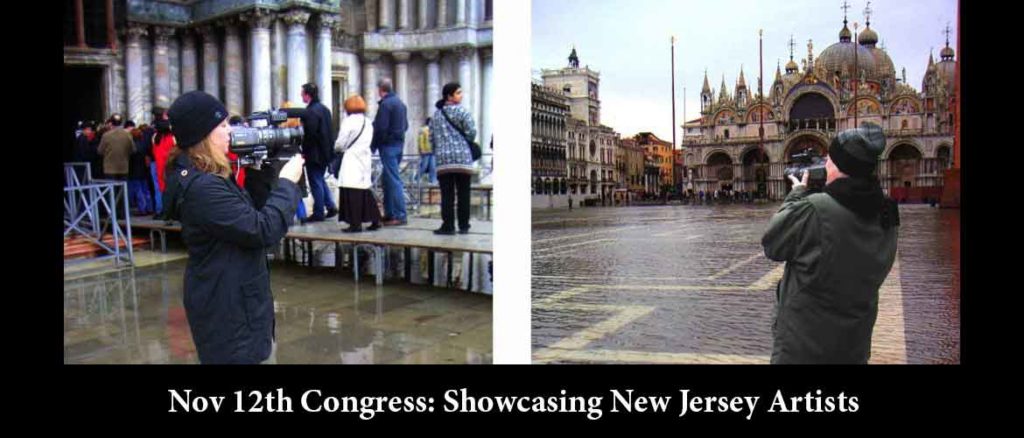 James Fiorentino:
Painting Icons in Watercolor for over Twenty Years
James Fiorentino is a professional watercolor artist who began depicting celebrities at an early age hoping only for an autograph and a brush with greatness. His art left such an impression, that in addition to autographs he also received commissions to work with Yogi Berra, Cal Ripken Jr., Mickey Mantle, and many more contemporary athletes. James' work has graced the walls of the National Basketball and Cycling Hall of Fames, the Ted Williams and Roberto Clemente Museums, the National Art Museum of Sport, and the Sports Museum of America. A resident of Hunterdon County, James is also proud of his Italian heritage and the contributions of Italian Americans in the arts and sports. In addition to celebrity illustrations, James also enjoys creating nature art and has had his work displayed at the Society of Animal Artists' "Art And The Animal" Show. Learn more at JamesFiorentino.com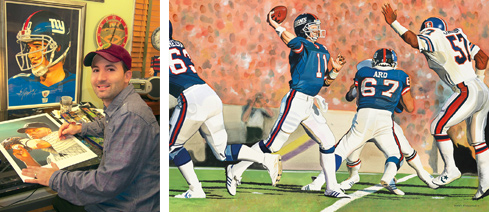 Maria G. Pisano:
The Art of the Book
Maria G. Pisano is a book artist, curator and educator whose works have been displayed in national and international museums. Her book Hecatombe 9-11 was selected for permanent exhibition in the National September 11 Memorial Museum. In April 2016 she delivered the illustrated lecture Hidden Voice of Making Books at the Library of Congress Rosenwald room on her book Viva Voce. Maria currently resides in Plainsboro, New Jersey and publishes her works under the Memory Press imprint. Learn more at Mariagpisano.com